Now Booking, Jeb Rault and Friends,  Tour of Central Europe
September 27 2023,   Werkstatt, Chur Switzerland
September 28 2023, KULTI, Wetzikon Switzerland
 September 29 2023, Enge Party, Zürich Switzerland
September 30 2023,  The Ranch, Orpund Switzerland
      October  4  2023,   Landhaus-Rheineck Switzerland
October 5 2023, Elvira's Trubli, Brunnen Switzerland
October 6 2023, Rattstübli Bistro Bar, Thun Switzerland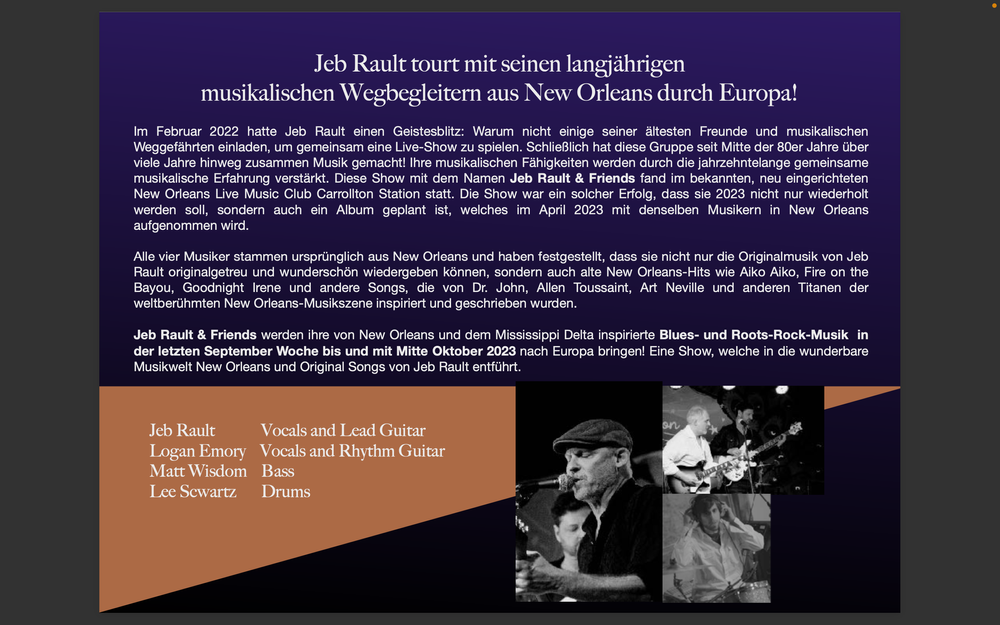 Jeb Rault is touring Central Europe with his longtime musical companions from New Orleans! Logan Emory, Matt Wisdom, and Lee Schwartz will join Rault for a tour in Switzerland from September 27-October 8. This group has been making music together for over thirty years! 
In April, they recorded an all new original album entitled Jeb Rault Rising, and this tour shall serve as the album release, with CDs being available at all shows. It will also be released on all streaming platforms by Sept 15!
All four musicians are originally from New Orleans and have found that they can not only perform the original music of Jeb Rault, but also that they can play old New Orleans hits like Aiko Aiko, Fire on the Bayou, Goodnight Irene and other songs written by Dr. John, Allen Toussaint, Art Neville and other titans of the world-famous New Orleans music scene. Jeb Rault & Friends will perform their blues and roots rock music inspired by New Orleans and the Mississippi Delta in Switzerland during last week of September through  mid-October 2023! A show which will delve into the wonderful musical world of New Orleans and original songs by Jeb Rault. Don't miss it!